About us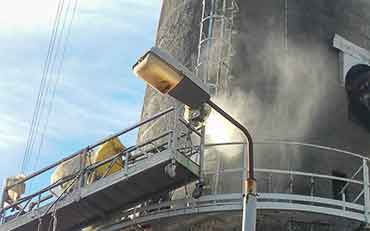 The company DAGLAS DIM. NEKTARIOS AND CO. with the title VISCO was founded in 2007. The company headquarters is located in Amfiali, on 35 Aristofanous Street. The main customer service branch is located in 38 Nikolaou Kontou Street, Megalopolis, Arcadia, 22 200.
Object
The company was founded with the main object of design - construction of refractory and antacid linings. Subsequently, expanded with great success in construction in industry, road construction, building and hydraulic. The company is staffed by experienced engineers and is registered in the 2nd class of the register of contractors' enterprises. It is also certified by EUROCERT. It applies the ISO 9001: 2015 Quality Assurance System, the Environmental Management System ISO 14001: 2015 and the OHSAS 18001: 2007 Occupational Health and Safety Management System.
Staff
About 20 experienced craftsmen work on a permanent basis in the company (welders, blasters, operators, drivers etc.), who have all the necessary professional licenses required by law. The staff is increased according to the projects.
Equipment
Our company is equipped with all the necessary machinery and tools for the execution of projects. Indicatively we mention the following. Crane 50tn. Crane trucks. Dumpers. Loaders. Excavators. Bulldozers. Grader machine. Roller. Fork-lift truck. Suspended firebricks construction platform. Suspended platforms (electrically-driven, air-driven, hand-operated). Sandblasting. Sandblasting of a closed circuit. Air compressors. Paint pistols airless. 1000bar water blasting. Engines dry sprayed concrete (gunite). Electric power generators. Conveyor vulcanization press. Winches. Αsphalt cutting machine. Plastering press machine. Scaffolding. Welding and metal construction equipment. Concrete cutting saws. Pipe welding machine. Refrigerant mixers. Firebrick Cutting Machines.